4 Hour Tour:
$110 + tax (8 and older)
$25 Guide Fee (Per Person) in cash or $35 (per person) credit card
A Proud Red Blooded American Tour Company
This off-road tour visits the same route as our Zion ATV/UTV Tour. You simply need to choose your adventure.
No off-road tour companies are allowed within Zion National Park boundaries. This Zion jeep tour located just outside the base of Zion National Park, Springdale, Utah, is a thrilling way for people with an active lifestyle to experience the back-country. Specially permitted by the Bureau of Land Management (BLM) to get you out on the best dang jeep tour around! Providing a full 3-hours of fun time in the dirt, we go way beyond sightseeing, we are explorational and interactive.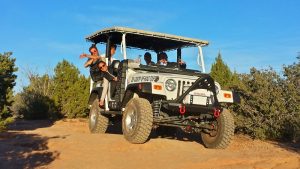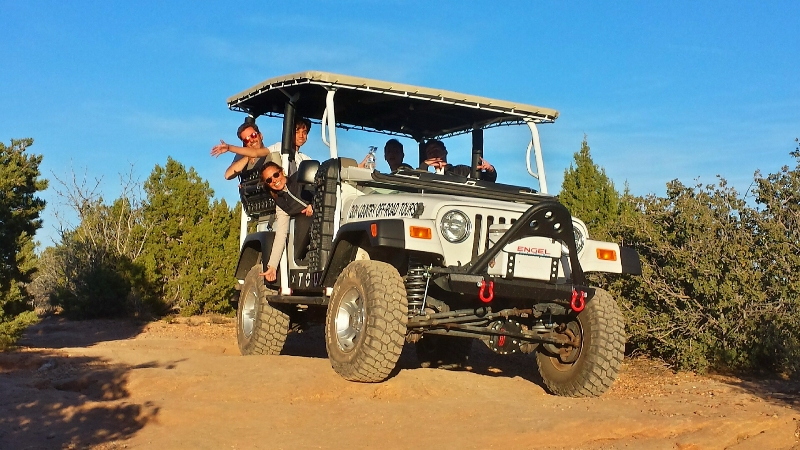 Providing the perfect amount of rugged excitement on this off-road trail, we stop at the spots that interest you…like drinking fresh rain water out of natural rock pools or taking a bite out of a prickly pear cactus. We love to chase lizards and enjoy the snakes from a distance. We're definitely not that dumb Jeep tour. We are here to provide you the best tour in the area. We are a five-star tour company through TripAdvisor with our focus being on your group's vacation be assured, we provide premium equipment, and by taking you to the furthest point possible provide you the best views around. Our tour offers you peace, solitude and serenity – – we're the only tour company that visits this area and we will enjoy the silence of mother nature. In this industry, you get what you pay for…quality costs money and we don't apologize for the quality of our tours. Come join us on this 4-hour round-trip off-road adventure!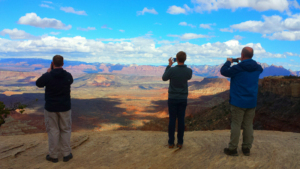 If you are ready for the absolute best tour experience, we are just a click away!!
Imagine kicking back, in a nice jeep with your arm wrapped around your loved one, ascending 1,500 feet atop the mesas and exploring over 30 miles of Jeep trail, not a basic graded dirt road. We surround you with gorgeous viewpoints in what we consider a perfect mesh of local history, geological formations, and pristine high desert environment. These views rival the Grand Canyon; it is so quiet you can hear the wind glide off the Ravens wings!! During spring and summer the desert is in bloom with plants like Cliffrose, wild Manzanita, Banana Yucca, Prickly Pear cactus, Cholla, wild Rhubarb, and the fragrant silvery blue sagebrush. The desert air smells of perfume!
Our custom-built Jeep Wranglers were designed with you, the customer, in mind – wide open 360 degree views, tubular half doors to keep you cool all summer long, and a fold down windshield allowing a fresh breeze to pass through – – this truly is the least dustiest jeep tour available. We love our active seniors! For those who may prefer to be with only your group/family we do offer a Private Zion Jeep Tour.
Disclaimer:
You will be required to sign into a liability/waiver agreement – no exceptions!
We reserve the right to refuse service to any guest without refund
Our tours are designed for people with an active lifestyle able to easily get in and out of a lifted vehicle
We have weight limits – no one over 280 lbs.
You will experience unintentional bouncing and bumps on this rugged 4-wheel drive jeep tour
We apologize for the inconvenience, but our Premium Jeep Tour does not allow service animals or children under the age of 8 so as to not distract from our guests having a wonderful experience while out on tour
If you have questions, please call (435) 767-7956 before booking online.
Call Us at (435) 767-7956 to book the best Jeep tour in the area!
Jeep tours meet at the Hampton Inn located in Springdale, Utah.
This tour offers slightly cooler temperatures during those warmer months.
**

Guide Fee

:
Guide Fee (cash) – $25 minimum required per person. If $$ is not provided to guide upon arrival, then a charge of $35 per person will be charged to the credit card on file before departure.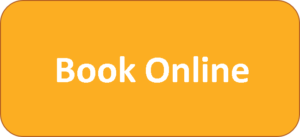 Includes: Plenty of Water, Granola Bars, Scenery, and Fun * Must be eight years of age or older for Jeep * Sturdy footwear recommended
Buckle up and explore the back country above and around Zion National Park for 3 full hours! If you are looking to go beyond the average 4X4 Jeep tour, Zion Country Off-Road Tours is where it's at. We are The Experts that take our guests beyond the cookie cutter experience. We skip the fluff and head straight up to the rugged wilderness of Smithsonian Butte Road and beyond. We wind our way to the very tip of Gooseberry Mesa known for its world-class mountain biking.
The day of your tour, we will meet you at the Hampton Inn of Springdale, Utah in our safe and spotless custom Jeep. From there we will drive about 10 minutes towards the back country, an area unseen or even known by most of the 4 million visitors to Zion. As we hit the dirt and along the way, your guide will share layers of knowledge about the history, geology, and biology in a way only a "local" could know.
Who has lived here and how did they survive such a harsh environment? Why are these rocks so colorful? What kind of animal scat is that? Can we stop to take a selfie next to that crazy rock formation? We'll take time for pictures, questions, and breathtaking views as you look out 40 miles upon the horizon. You are our first priority and we will do our best to follow your interests along the way. We take the time and care to do all the little things that add up to the most memorable part of your vacation in Utah. That's what makes us better than the rest!
How About Some Suggestions for the Remainder of your Zion Vacation?
High Adventure Seekers
:
– There are a number of outfitters in Springdale that offer equipment rental, technique classes, and guided trips as needed. You should seek the advice and guidance of these experts before jumping into anything. – Zion National Park is known for its world class canyoneering opportunities. There are so many slot canyons and holes to rappel into and hike your way out of. The Subway, Keyhole, and Imlay are three of the most common routes in the area.
– Mountain biking is great around here. In Virgin, Utah there is the Hurricane Cliffs trail system which has some unique scenery. The J.E.M. Trail is probably the most well-known and isn't crazy technical. Also nearby for more advanced riders is a trail named Guacamole.
– Hiking one of Zion's most extreme trails is a good way to spend a day as long as you're prepared physically and with proper supplies. Angels Landing is probably the most popular trail for thrill seekers. Though it isn't a long hike, you climb 1500 feet in just a couple of miles while crossing some very narrow sections at the end. A chain is all that
prevents a fall from either side. Another trail called The Narrows is a route that takes you in the frigid Virgin River for miles and miles. The beauty of 2000 foot sandstone walls rising above you is an experience you'll never forget. There are two ways to hike this route: From the top down as an overnight hike (back country permit required) or from the bottom of The Temple of Sinawava and back as a day hike.
Casual Adventure Seekers:
If you are looking for a more laid back visit there is still fun to be had. The rangers at the Zion Visitor Center are happy to provide a seasonal newspaper and additional information you might need for planning things within the park boundaries.
– Zion rangers lead many programs about the wildlife, geology, biology, or history of the area. Memorial Day through Labor Day there are family and/or child oriented programs offered at The Nature Center and other locations in the park as well. Check the park newspaper for a schedule.
– During late spring and early summer months you can rent tubes to float the river through the town of Springdale. Later summer months are typically too dry for easy floating.
– There are quite a few easy to moderate hiking trails in Zion National Park. The most popular hikes are Emerald Pools, Riverside Walk, and Weeping Rock. All three of these trails are accessed by the park shuttle generally March – November.
For the Hungry Traveler:
Springdale has a great selection of cafes and restaurants for dining out and most are locally owned. For breakfast, many people enjoy MeMe's Cafe as they have crepes, parfaits, and other satisfying morning choices. The local favorite for a fresh lunch is Cafe Soleil. Everything served is healthy but hearty. The traditional choice for dinner may be The Bit n' Spur as they've been around forever and often have live music later in the evenings. A newer dinner choice in town is Kings Landing Bistro which features upscale dining in a relaxed setting. To be fair though, there are lots of great places to eat in the area and everything tastes great after a long day of adventure.
We at Zion Country Off-Road Tours thank you for going with the best and supporting our locally owned business! Happy trails!!
ZCORT is a Bureau of Land Management permitted company.